All programs and events are currently suspended. Consulting services are still available and building our "work-net" is encouraged.
June 21, 2020
Hi Everyone,
As we move through the first wave of Covid-19 and look at the states where cases are rising sharply, try to stay focussed. Numbers have declined where people were careful about contact and have risen where awareness and acknowledgement have lapsed. Think hard about what risks you are willing to accept – we have many choices to make, physically, conceptually and emotionally.
The Black Lives Matter movement has grown exponentially during our interrupted continuum. Reality has shifted – is this the paradigm shift permaculture doctrine has advocated for for decades? Gather your strength and center yourselves. This is a time of great stress and perhaps, permaculture's time to shine. We need to teach Non-violent Communication methods and practice them. How do we maintain dialogue? When is the correct time to stop dialogue?
Our political divide has widened to extremes. When people overtly say that systemic racism – the aftermath of Colonial expansion – is not present in our society, institutions and habits, they are experiencing a different reality than mine. A false reality has been steadily evolving through what we watch, hear and know. When we know something, it is easy to find information to support that view, since all information is instantly available. This happens on both sides of the divide. Practice critical thought and comparative analysis to determine the integrity of the opinions and facts that shape your views. Seek-out varied sources.
We entrench our beliefs through our media intake, supporting that which we already believe, as much as learning anything new. All news has always been biased: some omit pertinent information, host obscure experts or cherry pick "facts". Journalists are wrongfully under attack and threatened. It is also apparent that our code of ethics in news reporting across mediums, has changed. Be careful! And remember to search for news from representatives and media in your local neighborhood, since this is where empowerment begins.
How to Grow with Our Changing Times
Educate yourself about anti-racism.
Identify what you believe in and be aware of who you are.
Don't try to win arguments. Dialogue if people ask and if you have time.
When you meet intolerance, know that change will come hard or never.
Semantics matter. Choose your words carefully.
Remember that status and territory are our part of our biological directive.
Asses the risk and set your limits internally.
Take responsibility for your actions and their effects.
Our energy is strong – this is a moment when all things are possible.
Stay well!
Claudia
Director, NYPE
Permaculture is more than just good gardening. It is a lifelong approach to analysis, actions and social structures that results in better relationships, more functional systems and a clearer understanding of everything necessary for human communities to thrive. – CJ
The Permaculture Exchange has relocated from Brooklyn to Tillson, NY in the beautiful Mid-Hudson Valley. Thinking of learning permaculture at home or starting a design project? Remote coaching and consulting are available.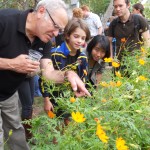 While NYPE no longer oversees garden or environmental programs at the Old Stone House, the gardens remain there for all to learn from and enjoy. Contact OSH if you wish to volunteer in the gardens. info@theoldstonehouse.org (718) 768-3195

Services: Consulting & Education: permie@earthlink.net
Permaculture article in Edible Brooklyn: http://www.ediblebrooklyn.com/2015/06/29/how-one-urban-garden-riffs-on-wild-design
For information, events, jobs and materials pertaining to Permaculture
subscribe to: new-york-permaculture-exchange+subscribe@googlegroups.com by sending an email.
The Permaculture-Exchange was established in 1998 to facilitate the free exchange of ideas, materials and labor related to permaculture. Job offers, fee-based environmental events, and permaculture courses have been added to the list coverage. Members can post information that follows permaculture's basic principles of care, respect and fair share; designing our human communities as natural systems by promoting better efficiency, more cooperative relationships and greater abundance for all.
Claudia Joseph, founder and Director of the New York Permaculture Exchange, is a permaculture teacher, consultant and practitioner. As the Director of Environmental Programs (2004 – 2018) at the Old Stone House she designed and installed a permanent useful landscape with students, apprentices and volunteers as well as programs and events that promote community sustainability. NYPE continues in Tillson NY, part of the beautiful Hudson Valley and sometimes in NYC, too.
Recognized by The New York Times, The Old Stone House – MS 51 Partnership Gardens are the first Food Forest model in NYC, based on permaculture design principles. The project began in 2004 and becomes more complex, beautiful, abundant and community centered each year.
Highlights of our 2012 Permaculture Festival by Costa Boutsikaris:
http://vimeo.com/61679230
A short piece on OSH programs by Costa Boutsikaris
https://vimeo.com/69708589
Interview on OSH project & permaculture by Ladema Zinsmeister:
https://vimeo.com/111785582
Facebook links
New York Permaculture Exchange: https://www.facebook.com/newyorkpermaculture/
Permaculture Festival: NYC
https://www.facebook.com/permafestNYC/